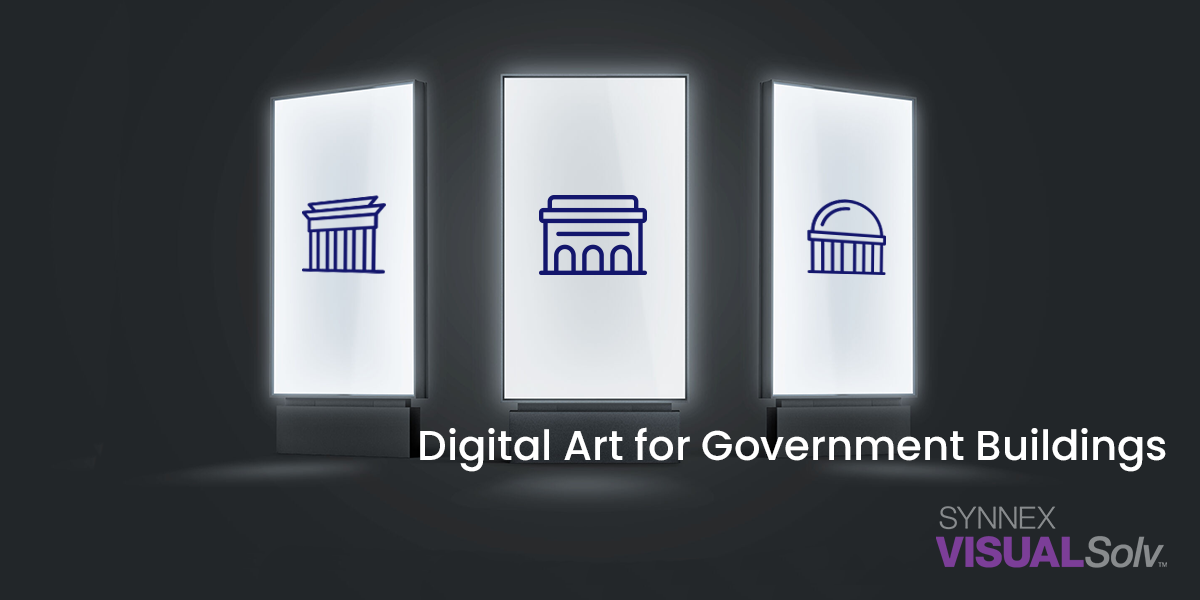 Everyone knows that digital signage has taken its rightful place in business; it's no longer a nice-to-have but an absolute necessity. The pandemic has helped digital signage prove its worth by letting us keep our distance while facilitating the distribution of information. It has created reliable and sometimes fanciful centers of focus for every population. Digital communication is everywhere, and it isn't going away — that's great news for our industry.
Even though much has been written about the most important aspect of digital communication — the content — not much has been mentioned about the untapped potential of combining it with local, state and national governments. Of course, there is the obvious opportunity of working with governments in matters of public safety and health communication, but here we're looking at a completely different aspect: ways integrators can provide value to government buildings through art. If you're looking for possible ways to increase your value to your potential government clients, this one's for you. And while this blog is focused on the situation in the U.S., it's meant for the entire AV community to get us thinking about ways to increase our value.
Here's what you need to know:
Art is mandated in U.S. federal public buildings as well as many state and local facilities. Yes, you read that right. Not only is art mandated to be present in every new federal building, but most states and localities set aside funds to provide art in their public buildings too. There are, of course, definitions of what constitutes art and regulations for installation, but the point is that there is an opportunity for integrators to merge current skills with the ability to offer content that would include "art." This would provide a more holistic solution for government customers by offering something they are required to have.
It isn't a great leap to think that we have the capability to increase our services to include content. We already have the real estate in the building that provides digital communication. The shells are there. Imagine video walls, LED displays, digital signage, conferencing solutions, lobby displays and big outdoor signage and projection, all being funded by the government. Some integrators already provide content as a service, but that content is usually boilerplate and informational, not creative content or art. It stands to reason that if integrators are solving two problems for their customers instead of one, it would increase both their chances of getting the contract and the value of our brand.
On the National Level
Support for the arts in federal buildings goes back to 1963 when GSA (the U.S. Government Services Administration) started the "Art-in-Architecture" program. It was officially picked up in 1965 when the government agency, the National Foundation on the Arts and the Humanities, was created. Through the years, the agency has supported myriad projects, and in 2005, the Art-in-Architecture program was written into the Code of Federal Regulations (CFR), stipulating that money be budgeted to include art in any public federal building.
On the State Level
Percent-for-art programs are active in at least 28 states and territories. These programs provide a certain percentage of the budget devoted to art in public spaces. The National Assembly of State Arts Agencies (NASAA) provides a wealth of information, including research, reports and contact information by state. It has an interactive map of budget allocations as well. Integrators can easily contact someone in their region to find out what services to offer so they can determine if a value-added service in this area would fit their business model.

On the Local Level
There are art stipulations within local governments too. Here's an example from Golden, Colorado's municipal code, which states, "A proposal for public art may be made to the public art commission by any organization, club or business, any city official or employee, or any individual member of the public, by filing an application with the city manager to be forwarded to the public art commission for review."
These are just some examples of the opportunities integrators have to increase their value to these sectors. As an industry, we have the power of digital communications at our fingertips — it's just a matter of finding a way to capitalize on what we already know to enhance our offerings.
Integrators have an opportunity to provide value-add service to their customers for something that is, in this case, a requirement. Being perfectly positioned to offer this, it seems like a win-win for everyone involved. The good news is that digital art is already an accepted medium in government.
Here's an excerpt from GSA's website that details the Art-in-Architecture program:
Jim Campbell explores a similar theme in a very different way. For his Broken Wall (2006), Campbell converted video images of local pedestrians into a light-emitting diode (LED) and glass-block screen set into a former doorway of the Byron G. Rogers U.S. Courthouse and Federal Building in Denver, Colorado. Broken down into glowing pixels, the video images form a constantly moving tableau of silhouetted figures that serve as reminders of the human dramas played out within the building. Inside the building's lobby, three smaller LED screens convey similarly low-resolution images of white-water rapids from the nearby Colorado River, linking the building and its operations to the wider natural environment. (p. 7).
This description of an installation is proof positive that digital art is already an accepted medium for the Art-in-Architecture program. Let's help each other find a way to capitalize on this opportunity.