Photographic Printer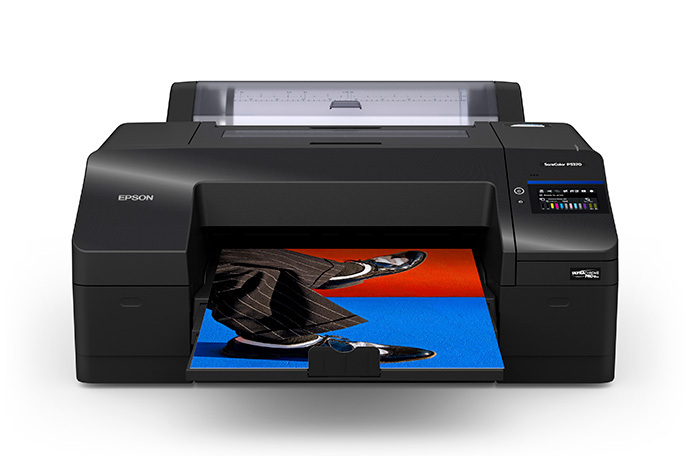 Epson Introduces SureColor P5370 17-Inch Professional Photographic Printer
Replacing Iconic SureColor P5000, New Printer Delivers Creativity Without CompromiseOctober 12, 2023 Printers, Professional Imaging
LOS ALAMITOS, Calif. – Oct. 12, 2023 – Empowering photographers to produce the finest exhibition quality prints, Epson today introduced the new 17-inch SureColor® P5370 professional printer designed to meet the demanding needs of professional and production photographic markets. Incorporating technological breakthroughs and enhanced reliability to produce prints as the artist intended, the new printer has an improved printhead, new ink set with an extended color gamut in dark blue hues, plus an advanced print engine for productivity, including sheet and roll capability. The SureColor P5370 is being debuted and shown at the Palm Springs Photo Festival.
Vincent Versace, a recognized pioneer in the art and science of digital photography noted, "When I have a large volume of prints to make and time and reliability is of the essence, the SureColor P5370 is my go-to printer for meeting deadlines while maintaining the highest photographic print quality."
Touting a refined design, the SureColor P5370 combines an improved advanced MicroPiezo® AMC™ printhead with Epson Precision Dot Screening Technology to consistently produce prints with smooth tonal renditions and capability to reproduce the details captured with today's high-resolution cameras. Featuring a new 10-color UltraChrome® PRO10 ink set in high-capacity 200 mL cartridges, including Violet Ink, the printer delivers an extended range of blue hues and a wider color gamut.1 With dedicated channels for Photo and Matte Black inks, there's no ink switching, helping to save time and reduce ink waste. The printer's built-in Carbon Black Mode increases Dmax, allowing for rich blacks and exceptional contrast on glossy paper.
Offering flexibility and increased productivity, the printer includes a built-in roll feeder, auto cutter and a high-capacity cassette that accommodates up to 100 cut sheets from 8.5" x 11" to 17" x 22". In addition, to further support today's workflows that leverage both Epson and third-party media, the SureColor P5370 includes Epson Media Installer, a software application designed to help control parameters for successful printing with a variety of media, including thick fine art papers.
"Listening to market needs and incorporating customer feedback, we integrated the latest printhead and ink technologies that are optimized for photography into this new printer so professional photographers can maximize productivity, reliability and consistently produce the finest exhibition-quality prints," said Marc Aguilera, product manager, Epson America, Inc. "Designed to meet demanding needs, the SureColor P5370 is an evolution to the beloved SureColor P5000, adding improved reliability, deeper black density and wider color gamut in blue hues.
Additional SureColor P5370 features include:
Intuitive operation – a new large 4.3-inch color LCD touchscreen and interface allows for easy setup, control and maintenance
Expanded connectivity – Ethernet, USB and, now included, Wi-Fi® connectivity
Advanced software support for enhanced productivity – includes Epson® Cloud Solution PORT2 for fleet management and Epson Print Layout software for simple print production
Availability
The SureColor P5370 will be available in Q1 2024 through Epson Authorized Professional Imaging Resellers for an estimated MSRP of $2,095. For additional information, visit www.epson.com/p5370.
About Epson
Epson is a global technology leader whose philosophy of efficient, compact and precise innovation enriches lives and helps create a better world. The company is focused on solving societal issues through innovations in home and office printing, commercial and industrial printing, manufacturing, visual and lifestyle. Epson's goal is to become carbon negative and eliminate use of exhaustible underground resources such as oil and metal by 2050.
Led by the Japan-based Seiko Epson Corporation, the worldwide Epson Group generates annual sales of more than JPY 1 trillion. global.epson.com/
Epson America, Inc., based in Los Alamitos, Calif., is Epson's regional headquarters for the U.S., Canada, and Latin America. To learn more about Epson, please visit: epson.com. You may also connect with Epson America on Facebook (facebook.com/Epson), Twitter (twitter.com/EpsonAmerica), YouTube (youtube.com/epsonamerica), and Instagram (instagram.com/EpsonAmerica).
# # #
1 Versus previous-generation UltraChrome HD Ink.
2 All features of this system require an active Internet connection and the use of a supported browser.
EPSON, MicroPiezo, PrecisionCore, SureColor, and UltraChrome are registered trademarks of Seiko Epson Corporation. AMC is a trademark of Epson America, Inc. Wi-Fi® is a registered trademark of Wi-Fi Alliance®. All other product and brand names are trademarks and/or registered trademarks of their respective companies. Epson disclaims any and all rights in these marks. Copyright 2023 Epson America, Inc.Tags: #Printers, Business Printers
Need more information? ETA? Talk to us: (336) 905-6933 and email us: sales@goodguys.us